FLOPEEZE are fun, comfortable, unisex, protective footwear for the beach, the home or just about anywhere!
Whether you use them on the beach, at home, at the gym, on airplanes, cruise ships, or in the garden, FLOPEEZE footwear gives you the full experience of walking barefoot while protecting your feet from undesirable and/or unhygienic surfaces.
The special panel design with ankle hole in the FLOPEEZE is what makes our product unique and patentable. The ankle hole, when snuggly adjusted to the foot, helps keep FLOPEEZE securely attached to your feet so you can walk or run naturally with barefoot-comfort.
FLOPEEZE are waterproof, soft to the touch, extremely flexible and very comfortable to wear. We offer 10 sizes, starting with 1 year old children, up to adults XXL for both men and women. FLOPEEZE is available in two styles; our Originals and SlipOns versions. It all depends on the intended use so we should have you covered.
Because of their versatility, FLOPEEZE can be worn almost anywhere and stored in the smallest of places – like the pockets of your beach-wear or petite tote bags.
They're quite uncomplicated really… simply Better Than Barefoot.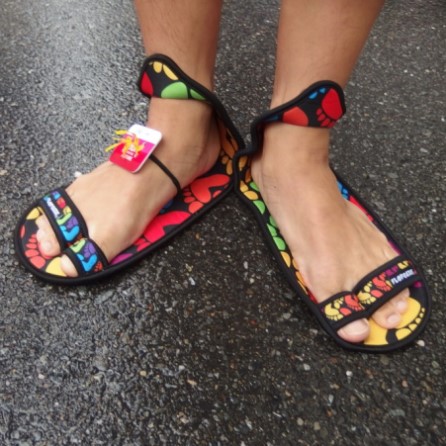 Before Saitama Marathon, Osaka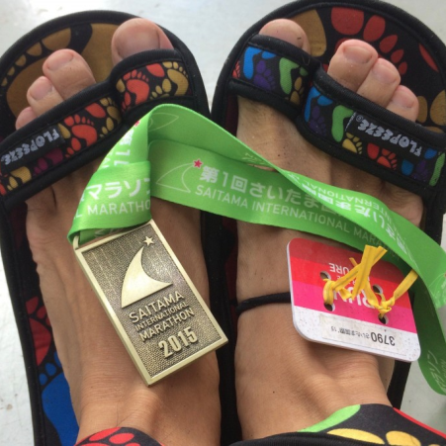 Just over 42 KMS later – astonishing!
Something for Everyone

The Barefoot Experience – Men, Women and Kids
FLOPEEZE for many are 'fun to wear'. And even fashionable for those special occasions. They are universal in application and appeal to a broad cross-section of recreational enthusiasts for Indoor and/or Outdoor wear!
If you're not a flip-flop fan, but enjoy walking barefoot, FLOPEEZE are made for you!
Better yet: because of their unique design they stay securely and snugly fitted to your feet so you can walk, run, chase your dog or play frisbees without them falling off. With FLOPEEZE, there's NO scrunching of the toes to keep them on!
The specially formulated rubber is flexible enough to mold around the sole of your foot. It's thin enough to give you a barefoot feel yet thick enough to protect your feet from hot surfaces or other unfriendly elements.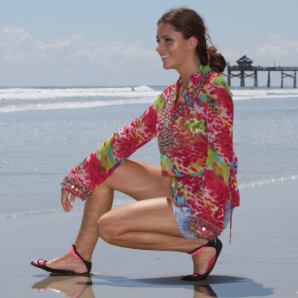 WOMEN
Beach – Tia out for a stroll
MEN
In the gym.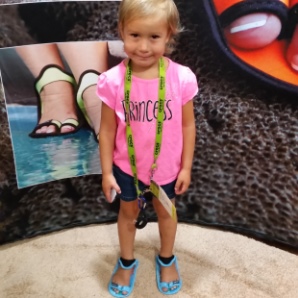 KIDS
Poolside – Ellie
Here are a few of the many FLOPEEZE attributes and benefits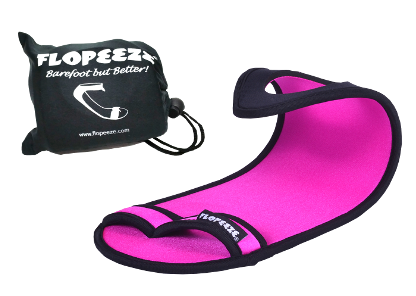 Patented design
Ultimate barefoot experience
Light weight
High degree of comfort
Universal applications
Compact
Waterproof – washable
Available in two styles: Slipons and Originals
Unisex
Indoor and/or outdoor use
Increased hygiene in public facilities
Enables you to walk or run naturally
Great protection against beach elements
Toddler and infant size offering
Every purchase includes a carry bag accessory
The everywhere and anywhere footwear TM
Our Offering

Calendar of Events