FLOPEEZE International is registered in the USA and Asia and solely retains all rights to its patent and trademarks worldwide.
Our marketing objective is to deliver contemporary sandals that are practical, fun to wear and fulfills a number of needs in niche areas of application.
FLOPEEZE are manufactured with the same form rubber as deep sea dive suits – neoprene. They are laminated and sewn with stretchable lycra and nylon. The sole is screen printed with a slip resistance silicone gel which protects the consumer from slipping on wood and marble flooring as well as other polished artificial decks and surfaces. All our products are waterproof, hence washable when necessary.
FLOPEEZE product offering is with two styles:
FLOPEEZE Originals w/toe strap
FLOPEEZE SlipOns w/cap
We have 10 physical fixed sizes starting with 1 year olds (Toddler 3 – T3). The largest size is XXL (US size 12-14). Our sizing chart is available in our shopping cart.
FLOPEEZE products come in an array of colors and graphic designs. We can also manufacture custom orders with specific PMS colors or graphics. And yes, we can screen print logos if necessary of schools and associations. However, this offer is based on a case by case basis as MOQ's will apply.
From our past experience, FLOPEEZE have been worn in a myriad of places for various needs. Based on our feedback, here are actual scenarios where FLOPEEZE have been worn:
At the beach on hot sand or gravel and paved areas
Communal showers in the surrounding facilities
On airplanes for medium to long haul flights
Cruise ships in cabins or hot and wet areas
Hotels and beach resorts
University dorms
Outdoor festivals where the surrounds can be a bit murky
Strolls along hot boardwalks
Backyard BBQ's and general activities for all
Recreational gyms and showers
Beauty parlor after a pedicure
On boats or yachts to protect the surface deck areas
Camps sites at night while your hiking boots dry off
Water parks
Hospitals
Swimming pools and Spas
Late night Casino runs after ditching those high heels
TSA approved – no barefoot runs at security checkpoints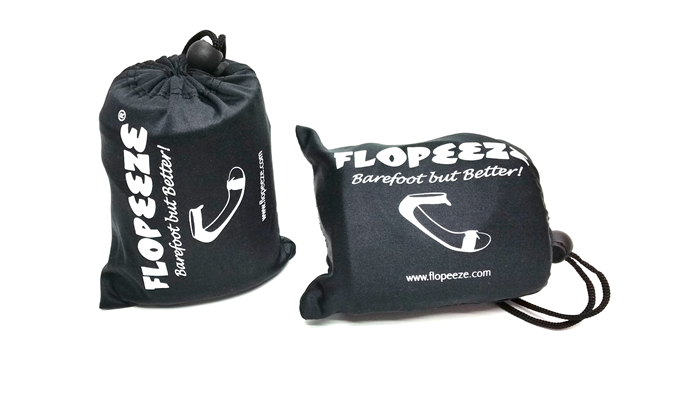 I'm sure consumers have found other ways to utilize FLOPEEZE when the occasion presented itself. The key benefit to ensuring you are never caught without your alternative pair of sandals is to keep your microfiber FLOPEEZE carry bag within reach. All FLOPEEZE purchases come with a complimentary carry bag. As compact a footwear there ever was, FLOPEEZE can be stored in the glove box compartment of your SUV, in your pursue, in or hanging off your backpack, beach bag, hand carry luggage when traveling, duffle bag and even hanging off your belt loop.
FLOPEEZE are very versatile. You don't require much imagination when the unexpected happens. FLOPEEZE can always bring value to your footwear needs when you least expect it. WalkOn!